BROOKLIN AND THE 1965 FORD MUSTANG CONVERTIBLE
Posted by BROOKLIN MODELS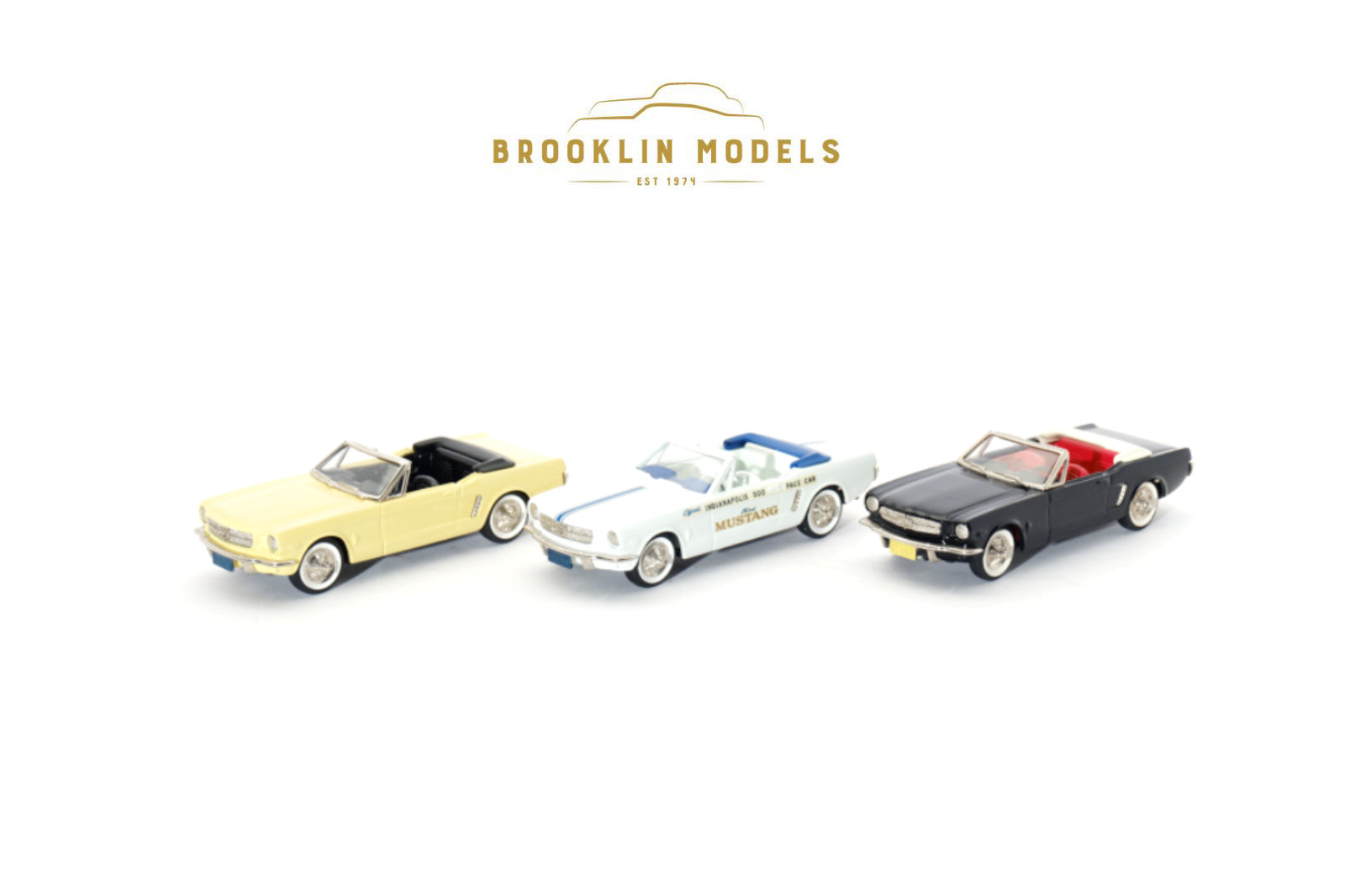 FACTORY SPECIAL 1994
The 1965 Ford Mustang Convertible (BRK56) was originally released as a factory special in October 1994, finished in gloss Wimbledon white with white interior and blue dashboard and tonneau cover. Markings are accurate for the 1965 Indianapolis 500 Pace Car, with blue racing stripe on the hood and trunk and the words "Official Indianapolis 500 Pace Car" on the upper margins of the body sides. "Ford Mustang" is found on the doors. 2000 models were produced.
FACTORY SPECIAL 1996
In changing the 1965 Indianapolis 500 Pace Car into the 1965 Mustang Convertible, Brooklin chose a pale yellow for the body color and contrasted it extremely well with an all-black interior saving the chrome shift lever on the console. A further degree of authenticity was achieved by plating the windshield frame as in the real car. This required a re-work of the casting to make the frame a separate piece, with the result well worth the effort. Similarly, Brooklin chose a realistic matte finish for the tonneau boot. Whitewall tyres and license plates in blue finish up the piece. An interesting note is that for some reason, the radio antenna base was removed from the right front fender. The pale yellow version was a Factory Special released in August 1996 and only 1000 pieces at most were produced. For this milestone car in American automotive history a standard version of the 1965 Mustang Convertible was never released by the Brooklin factory.
WESSEX MODEL & TOY COLLECTORS
The 1996 Brooklin special for the W.M.T.C. it's a beautiful and unique model. It starts with an excellent color choice for the 1965 Ford Mustang convertible, done in gloss black with red interior and egg-shell white tonneau boot. Utilizing the updated casting, the Wessex Mustang features the plated windshield frame. And added bonus points for the accompanying detail pieces, which consist of a set of repair ramps, with realistic traction grid on the upper surface and W.M.T.C. / 1996 incorporated into the framework and an Omen figure of a garage mechanic, supine with open-end wrench in his hand, painted by John Roberts. His coveralls are a dirtied maroon and body position is accurately rendered. Put the entire set-up together and it's a beautifully detailed and realistic display piece. As with previous Wessex models, this black Mustang is enclosed in a special box, featuring distinctive artwork. Just 200 of these Mustangs were produced.
Author: Gianluigi Cappi
You may find more pictures and information on this model plus many other Brooklin stories in the Brooklin Models Collectors Guide.
Collection 2019
Sale 70% Off
Title for image