BROOKLIN AND THE 1948 PACKARD STATION SEDAN
Posted by BROOKLIN MODELS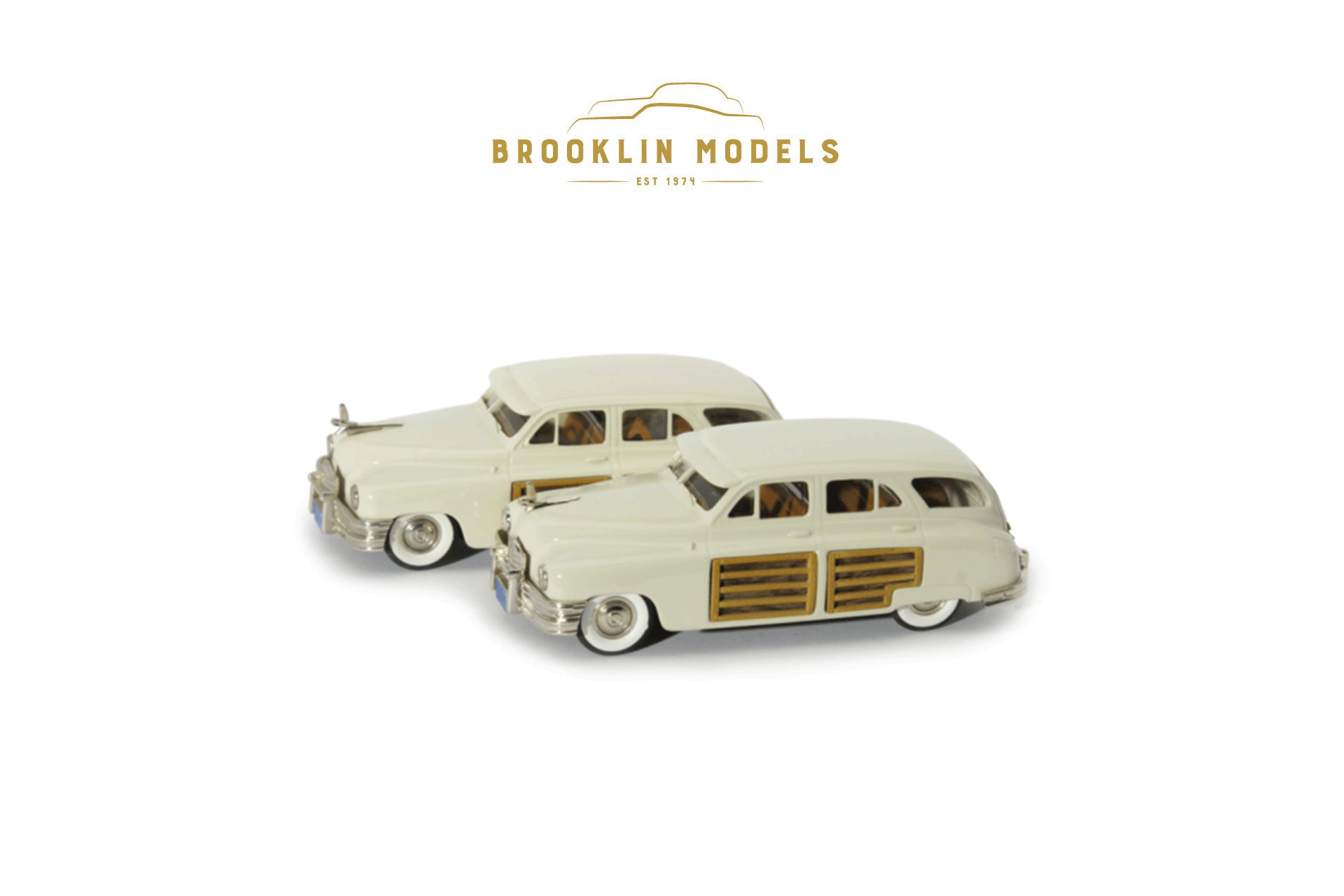 The first 1948 Packard Station Sedan (BRK43) appeared in April 1993 as that year's B.C.C.. The following month the standard version arrived. It is known in cream and a light cream with tan interior and blue license plate. In May 1995 it was replaced by a new standard identified as BRK43A on the box. The new version is finished in light green metallic with brown interior and a roof rack has been added. This was deleted in December 2001. All have whitewall tyres.
BROOKLIN COLLECTORS CLUB
The B.C.C. sponsored their 5th Brooklin special in 1993, a 1948 Packard "Woody" station wagon, done in dark metallic forest green, two-tone beige and brown interior, with contrasting "wood" trim on the doors and baseplate reading "B.C.C. 1993 1 of 400". The model is packaged in a blue and silver box, each serially numbered. The B.C.C. special preceded the official release of the Packard Station Sedan.
MODEL CAR OF THE WORLD
Model Car of the World, from Australia, converted several Brooklin models into hearses as Code 3's. One of the conversions was the 1948 Packard Station Sedan, finished in black and grey with brown interior, each made in 50 pieces. A light grey shade exists. The Packard retained the wood panelling on the doors and has a coffin inside.
JOHN ROBERTS CONVERSION
With permission of Brooklin Models, in 1993 John Roberts made a 1948 Packard Station Sedan conversion in pembroke coral with brown interior. The tailgate is open and shows golf luggage, made by Omen Miniatures. 25 models were made with number and John Roberts initials painted on the base, each with a numbered certificate which gives some information on the 1948 Packard Station Sedan printed on yellow paper and signed by John Roberts.
A second edition (BRK43B) was released in January 2002 and deleted in January 2004. It has a few differences from the standard model. Door handles and aerial are separate from the body, the back door has chrome hinges and handle, the hood ornament is smaller, the wheels are a new better defined type and wood trims are added to the side windows. It is finished in burgundy metallic with beige interior, white license plate and whitewall tyres. A lighter burgundy metallic color variation exists.
Collection 2019
Sale 70% Off
Title for image