HOW MUCH DO YOU KNOW ABOUT BROOKLIN & THE TUCKER TORPEDO
Posted by BROOKLIN MODELS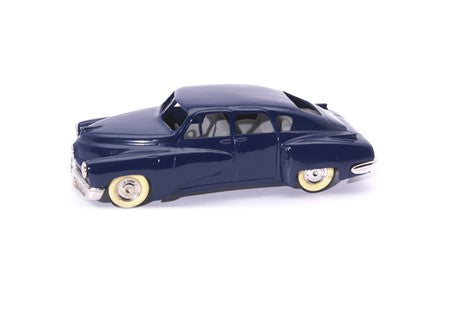 This is the second model released by Brooklin (BRK2) and was made in several varieties with many color variations. The first casting (C) was produced in Canada in 1975 with 14 pieces in maroon with no windows. They were followed by several shades of dark blue without windows, then by a dark blue metallic with windows and a very bright orange red. These were rather rough castings and the model sizes varied due to casting problems. When Brooklin moved to Bath, England, the original master was used, but over a new baseplate which identified England as the country of origin. This second casting (E) only appeared in red metallic with added separate chrome rear lights, wipers and a license plate reading "ONTARIO BRK8", followed by the E2 casting in light red and red metallic with added details. The last Tuckers were produced from a new master (E3), identified with 2A on the baseplate, and have more details added. The original version was in red metallic followed by the gold, which may be found in light, bronze and dark tones. Several special editions were commissioned. The model was deleted in June 1993.
MOVIE SOUVENIR
In 1987 agreements were reached for Brooklin Models to produce three special Tuckers to commemorate the release of the movie "Tucker: The Man and his Dream". These specials were made in three different colors: lazer red, stratus silver and turquoise, each with a production of 1000 pieces. A certificate is included in the model celebrating the movie. Before producing these Tuckers eleven color trials were made and taken to the June 1987 meeting of the Tucker Automobile Club of America, which was held in Indianapolis, Indiana. The club members voted on their four favorite colors and these choices were relayed to John Hall who made the final decision on three colors. The eleven color trials were subsequently auctioned off at the Tucker Club meeting.
TUCKER AUTOMOBILE CLUB OF AMERICA
Specials for this club were first commissioned in 1985 and consisted of 85 Tuckers done in metallic red with light tan interior and green license plate. A color difference occurred with the T.A.C.A. specials done in 1990. The initial order placed by the T.A.C.A. was for 75 Tuckers done in dark metallic blue with robin's egg blue interior and yellow license plate. This special was patterned after Tucker No. 26, owned by Dave Cammack and was available at the Tucker convention held in June 1990. Demand for this special easily exceeded the supply and an order for 125 additional models was placed. When these arrived in December, they were found to be decidedly different, metallic blue in a lighter shade. A letter enclosed with these models states that the Club decided to accept the second batch although the wrong color was used. The third special sponsored by the T.A.C.A. was released at the convention held in March 1992. Done in metallic forest green with beige interior and cream license plate, this group of specials comes in serialized and un-serialized forms. The initial 150 models were engraved with numbers and were available at the convention. They were followed by an additional 600 un-serialized models.
You can find many other Brooklin stories on the fourth edition of the Brooklin Models Collectors Guide. Click here
Collection 2019
Sale 70% Off
Title for image