BROOKLIN MODELS AND THE FORD MODEL A VICTORIA (BRK3)
Posted by BROOKLIN MODELS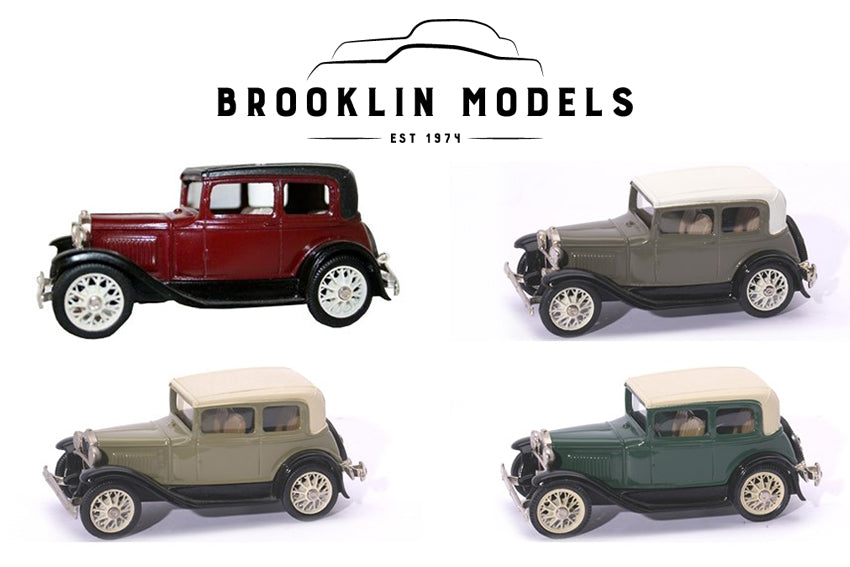 The first version of the 1930 Ford Model A Victoria was made in Canada. Done in maroon with black roof and fenders, is the rarest one with a quantity of only 10 produced. The other Canadian versions are found in brown and in olive green, with white roofs and black fenders. English production are found in olive, beige, tan and in various green shades with cream roofs. License plates, only on rear, are yellow and wheels can be white, cream and tan. All have metal tyres, except for the last ones produced which have plastic tyres. This model was deleted in July 1985 and the last 250 pieces had a certificate confirming this fact.
WEBER'S
Weber's Nostalgia Supermarket, of Fort Worth, Texas, commissioned the sixth of their series of Brooklin specials in 1989 to commemorate their continued success as suppliers of collectibles and memorabilia. This model is the 1930 Ford Model A Victoria, with orange body, cream roof, cream fenders and cream base. The decal on the doors has the company logo and states that 72 models were produced to commemorate the store's 72nd anniversary. This is the only special ever done of the 1930 Ford Model A Victoria.
ANGEL COLLECTION - CHICAGO FIRE
This is one of the Angel Collection series of Code 3 fire models. Made in only 3 pieces, it is finished in red with black interior and black roof. The decals on the sides read "Chicago Fire Department" with "CFD" letters on the doors overlapped as an emblem. A chrome fire extinguisher is mounted on the left fender and an alarm bell is placed on the left door.
You can find many other Brooklin stories on the fourth edition of the Brooklin Models Collectors Guide. Click here
Collection 2019
Sale 70% Off
Title for image