BROOKLIN AND THE JAMES LEAKE AUCTION
Posted by BROOKLIN MODELS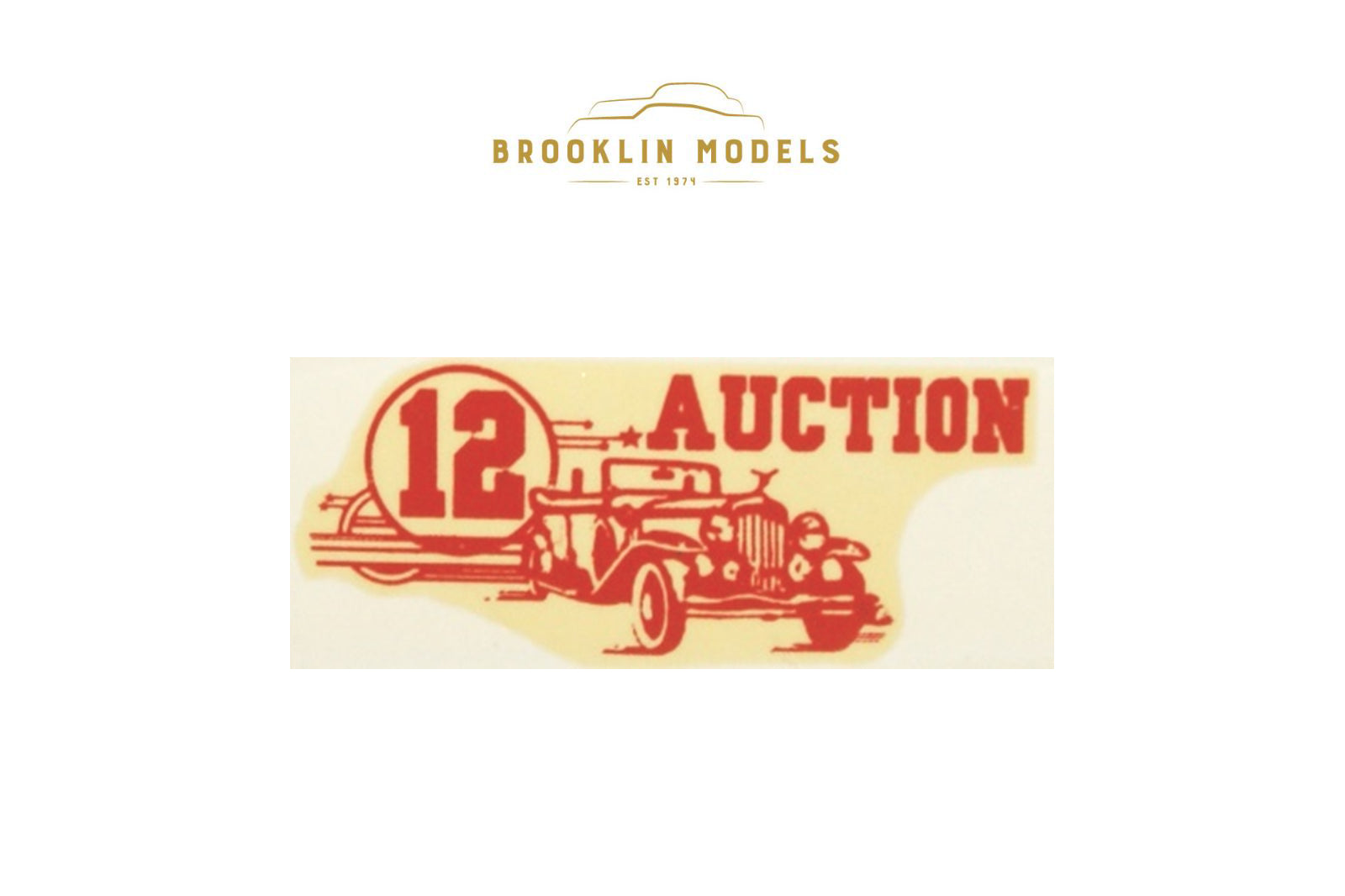 Before car collecting was a business and collector cars became a hobby, when old cars were considered junk, that is when this passion started for James Leake. He looked for old cars and stocked them until one of the first collector car auctions in the United States was held. In 1964 the Leake family conducted an auction on the Leake site in Muskogee, Oklahoma. Considered a smashing success by everyone, this one event set the stage for a museum on this site and the annual collector car auction based in Tulsa. Today Leake Auction Company conducts several collector car auctions a year. In 1984 they commissioned the first Brooklin special for their 12th auction, followed by four other specials in the following years.

500 Dodge Vans were commissioned for the 12th James Leake Automobile Auction held in 1984. Bodies are finished in white, with red fenders and interior and white wheels. Side panels state "12th Auction" with a picture of a British sports car. The doors have information on the location of the auction. Although 500 models were initially produced, in 1987 100 were converted with permission of the Brooklin factory to A.C.D. Museum Dodge Vans and 50 to Bay State Lobster Dodge Vans, so final number of the Leake 12th Auction Dodge Vans would be just 350 models.
For the 13th Auction in 1985, J. Leake chose the Ford Van done in a stunning black with red interior and gold lettering on the side panels and doors. Side panels state "13th Auction" and also feature a picture of a speeding British sports car. The doors read "Antiques, Inc., Post Office Box 1887, Muskogee, OK 74402-1887, Phone 918 683-3281" and the rear door panel reads "James C. Leake and Antiques Inc., 13th Annual International Antique, Classic, and Special Interest Car Auction, Tulsa". This model easily wins the prize for the most information placed onto a Brooklin special. Even with all of that, no date is specified. Whitewall tyres are mounted on black wheels and 250 pieces were produced.
150 Dodge Pick-ups were produced for the 14th James Leake Auction held in 1986. The body is finished in bright orange, with interior and fenders in dark brown and orange wheels. A curved-edge signboard is found in the bed indicating the 14th James Leake Auction and decals on the doors read "14th Auction".
A 1937 Chevrolet Coupe was chosen for the James Leake 15th Annual Automobile Auction held in 1987. Finished in gloss red, with beige interior and wheels and yellow license plates, the model features the auction logo in yellow on the doors. Just 150 pieces were produced.
In 1988 the J. Leake Auction again chose the Ford Van for their show special, this time finished in orange with red interior, blue license plate and whitewall tyres on red wheels. Side panel states "16th Auction" in red, and information on the doors, also in red, is the same as found on the 1985 special. Only 150 of these Ford Vans were produced.
Author: Gianluigi Cappi
You may find more pictures and information on this model plus many other Brooklin stories in the Brooklin Models Collectors Guide.
Collection 2019
Sale 70% Off
Title for image