BROOKLIN AND THE 1956 FORD FAIRLANE VICTORIA
Posted by BROOKLIN MODELS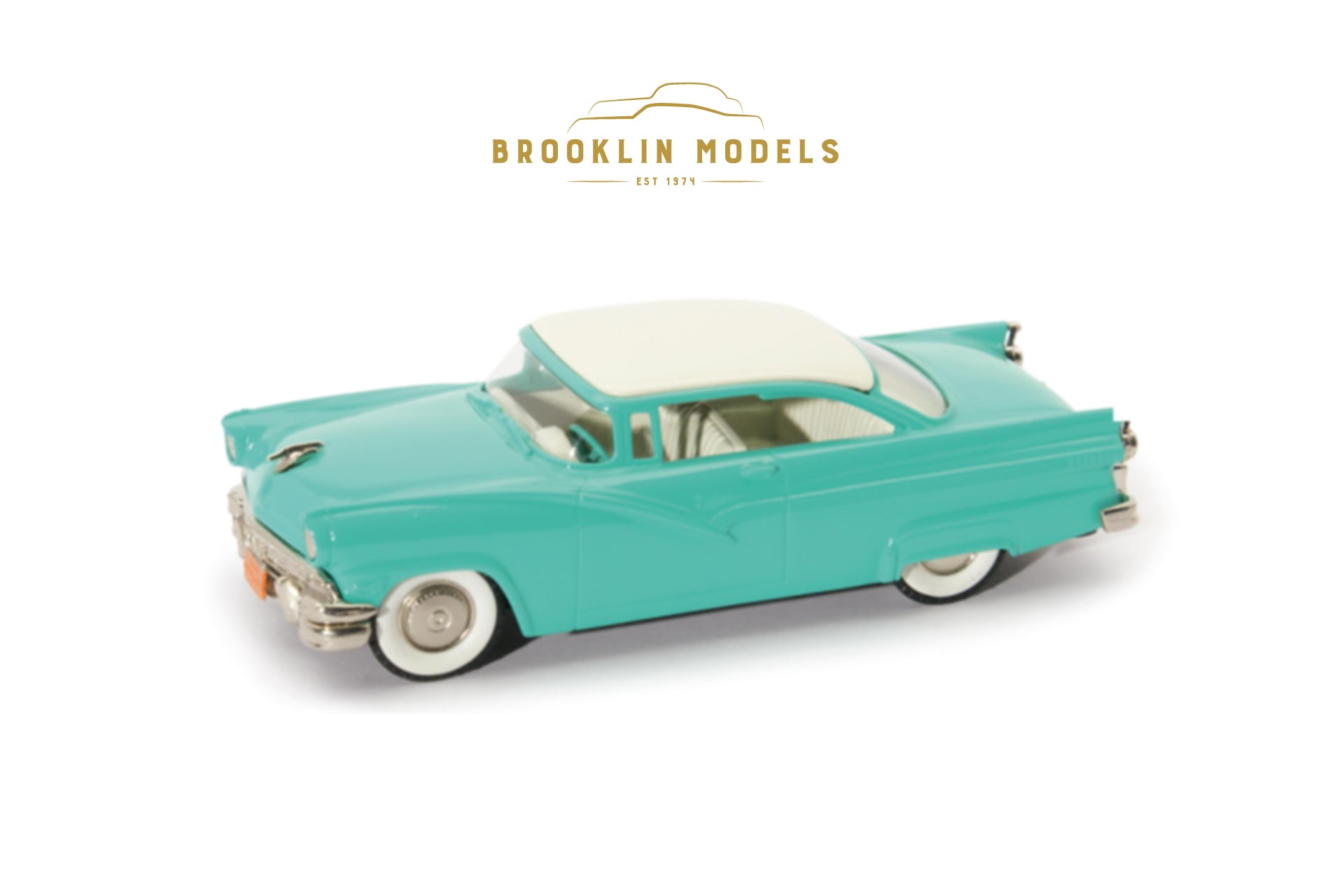 The first standard edition of the 1956 Ford Fairlane Victoria, produced in 1987, strangely had the wrong license plate number. Many were produced with orange "TEXAS BRK22" plates. During the production run, the tags were changed to the correct "FLORIDA BRK23". The color is spearmint green, with some models in a lighter shade, interior is light beige with license plate orange, changed to white with yellow plate for the second edition. All tyres are whitewall. It was deleted in January 1996.

TOYS FOR COLLECTORS
A group of standard 1956 Ford Fairlane Victorias were modified into Crown Victorias for Toys for Collectors. Body color of spearmint green and white, with white interiors, was retained, but chrome foiling was added to the side spear and a plated roof bar was fashioned for the roof. Modified without factory permission, these models are considered Code 3 and quantity of models produced is unknown.
FREEWAY COLLECTION
In 1990 Brock Models commissioned Mick Cooling to modify and detail the standard 1956 Ford Fairlane Victoria into a more realistic color scheme and detailing. Mick chose sea blue for the roof and lower body, with hood, upper doors, and trunk lid done in arctic white and designated the model as part of the Freeway Series. Interior is finished in grey and side spears, door handles, badges and other details are foiled. Baseplates have the designation "F/Way No." and the initials "M.C.". 25 models were produced each accompanied by a certificate and they are Code 2.
NASCAR STOCK CAR
These top-down convertible racers, meant to represent NASCAR racers, are finished in orange and white, with black interior and tonneau cover. They are complete with multi-color racing decals and cast figure of Curtis Turner, who drove the Fairlane in 1956 winning 22 races. These models were produced in Germany in late 1994 by Werner Wieteck of B.C.D. and Sigi's Automodelle with the permission of the factory, so are designated Code 2.
ST. MARTINS ACCESSORIES
4 Ford Fairlane Victorias were produced as Code 3's for St. Martins Accessories in reverse colors with added extra detailing.
BLACK FOREST MODELS
Black Forest Models of Germany produced 50 top down versions of the 1956 Ford Fairlane Victoria in light blue with white interior. These are designated Code 3 and are numbered on the box.
CODE 3'S
David McGee was one of the earliest members of the SFBBC and also a member of CTCS and had a strong passion for Brooklins which led him to re-paint and detail many models, among them the Ford Fairlane Victoria. This Code 3 is finished in red with white top and white interior, all chromes are foiled for a very shining look. Another beautiful conversion of the 1956 Ford Fairlane Victoria was made by Mike Cooling in a two color scheme: aqua green / modena green with beige interior and yellow license plate. All trims have been foiled. Mike Cooling was the first one in UK to be given a Code 2 status by John Hall.
1956 FORD MAINLINE (BRK23AA)
The standard 1956 Ford Mainline was made as a Michigan State Police car. The color is dark blue and tyres are blackwall. The Michigan State Police badge is visible on the doors, a red light is mounted on the roof and a long aerial is placed on the left side. A few chrome details are added to this model and the rear trunk emblem is changed to the correct Mainline one. It was released in November 2000 and deleted in January 2004.
DEALER SPECIAL
The Dealer Special program allowed the purchase of special models at a standard price with eight stickers issued with the purchase of standard models. Brooklin's 4th Dealer Special was released in September 2001. Designated BRKX4, the Dealer Special is a civilian version of the 1956 Ford Mainline two-door sedan, finished in red with tan interior, plated door handles, an antenna stub, black washed grille, separate plated windshield wipers (the first model to have this detail) and white sidewall tyres. The license plate reads "MICHIGAN X4".
Author: Gianluigi Cappi
You may find more pictures and information on this model plus many other Brooklin stories in the Brooklin Models Collectors Guide.
Collection 2019
Sale 70% Off
Title for image