BROOKLIN AND THE 1954 DODGE ROYAL 500 CONVERTIBLE
Posted by BROOKLIN MODELS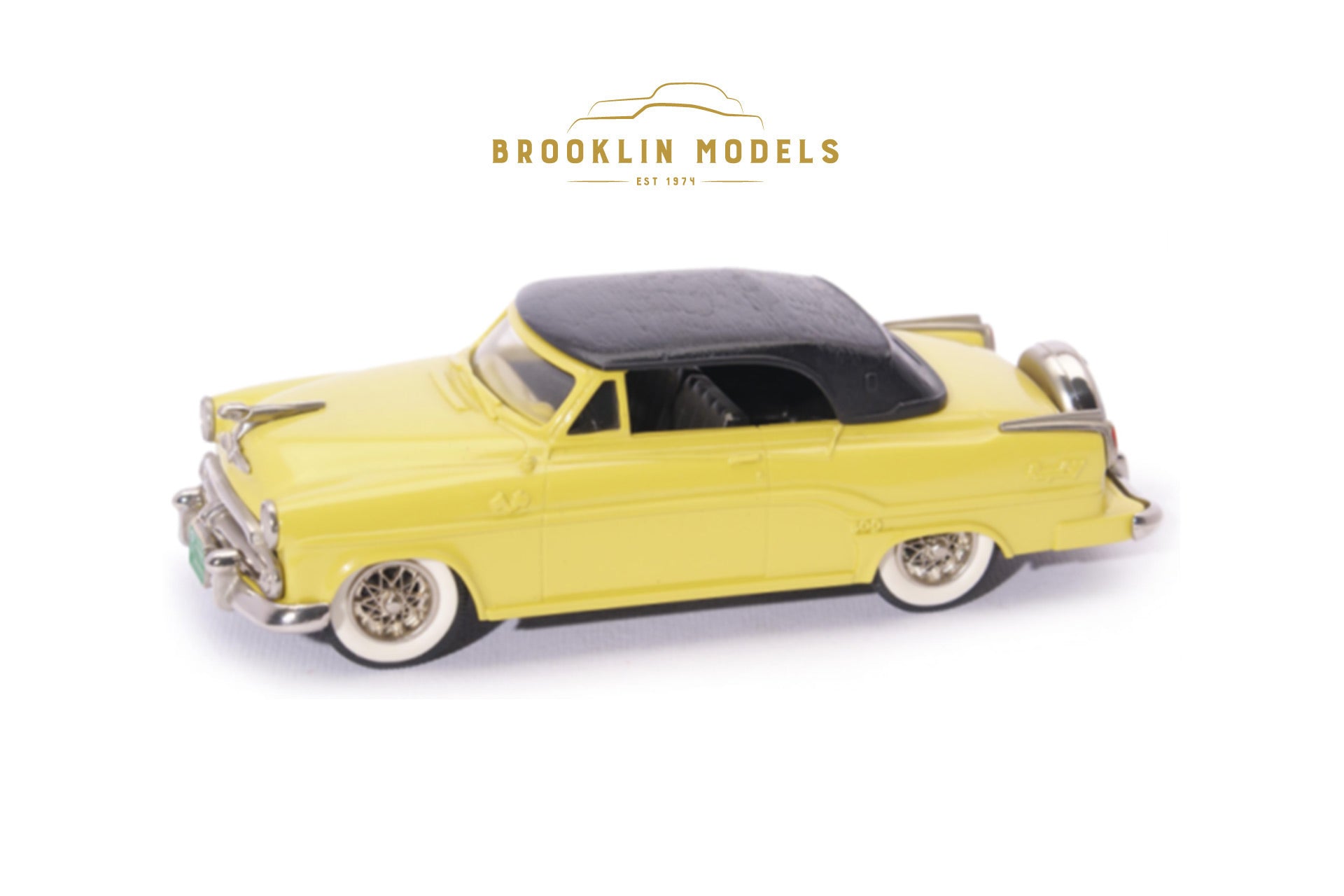 The standard 1954 Dodge Royal 500 Convertible Top Up (BRK30) was released in 1990 and deleted in February 1993. It is finished in yellow with a black top in the up position, black interior, green license plate and whitewall tyres.
LEUKAEMIA RESEARCH FUND
In April 1996 a Dodge Royal 500 was released sponsored by Roger Perrie for the benefit of the Leukaemia Research Fund in Steeple Ashton near Trowbridge, England. The model was produced as a memorial to Roger's sister, Linda Joyce Perrie, who died from leukaemia at the age of 21. These Royal 500's were created by John Roberts with permission from the Brooklin factory and done in brilliant red with medium beige roof and interior. Finishing touches include the black accent panel at the lower margin of the side windows, dashboard in black, a silver steering wheel and instrument panel and specially cast bumpers featuring license plates which read "DUNDEE LJP 54", Linda's initials and year of birth. Wheels from the Dodge Royal Convertible were used. Each model is numbered with an engraved brass plate and has a certificate signed by Roger Perrie and John Roberts. In addition to the run of 25, two one-off models were produced, one in light blue with white roof and one in black with white roof, which were put up for auction and two color trials, one of which with standard wheels. On April 26, 1996, Roger Perrie presented a check for £1.284,76, proceeds from the sale of the 25 models as well as two one-off models, to officials of the White Horse Fundraising Group on behalf of the Leukaemia Research Fund.
SINCLAIR AUTO MINIATURE
A limited edition Dodge Royal 500 Indy 500 Pace Car was done as a top down version, totally repainted in yellow with decals more accurate to the actual 1954 Pace Car and distributed by Sinclair Auto Miniature. The model has added dashboard detail, glass lenses on the headlights, a chrome aerial and license plate with "54 Indiana" and the serial number. These Code 3's were done by Dave Ronken for True Dimensions, a model specialist outfit. 100 pieces were made.
BLACK FOREST MODELS
Eugen Hor of Black Forest Models, Germany, produced 50 Dodge Royal convertible in deep lilac with white interior. These are considered Code 3's and are numbered on the box.
TOP DOWN VERSION
The 1954 Dodge was re-worked and introduced as a standard top down version in 1992 (BRK30A). The standard edition was actually released in February 1993 and deleted in 1997. It is finished in light green metallic with white / black interior and white license plate. There is a distinctly darker shade in a darker metallic green. The seats in the new Dodge Royal in green are different from those found in the top-up version in yellow. The new seats are thicker and are cast separately from the interior. The new interior has the added detail of window cranks and floor mats.
FACTORY SPECIAL
A factory special of the 1954 Dodge Royal 500 Convertible was released in July 1992, done in cream as the 1954 Indianapolis 500 Pace Car. This is a top down version, 3000 produced, with black tonneau cover and the Indy 500 markings on the doors. The Indy 500 Pace Car is lacking the Royal V-8 designation on the rear fender. These models come with a certificate attesting that this vehicle was chosen to be the official pace car for the Indianapolis 500 mile race held at the famous motor speedway on May 31st 1954.
MAIDENHEAD STATIC MODEL CLUB
The M.S.M.C. commissioned a Brooklin special which was released in December 1992 for the Christmas holiday season. Based on the 1954 Dodge 500, it is done in flame red with white interior, dashboard and tonneau, black steering wheel, white license plate. In the front seat is a somewhat slender figure of Santa Claus and in the rear seat is a brown sack of gifts and a green Christmas tree. Quite a bit of hand detailing was done at the factory, as Santa's hat has white fur trim, his face and hands are done in flesh and the sack of gifts has some detail of color. This was the first Brooklin produced that featured a cast figure. A total of 200 pieces were produced for club members.
Author: Gianluigi Cappi
You may find more pictures and information on this model plus many other Brooklin stories in the Brooklin Models Collectors Guide.
Collection 2019
Sale 70% Off
Title for image