BROOKLIN AND THE 1949 BUICK ROADMASTER (BRK10)
Posted by BROOKLIN MODELS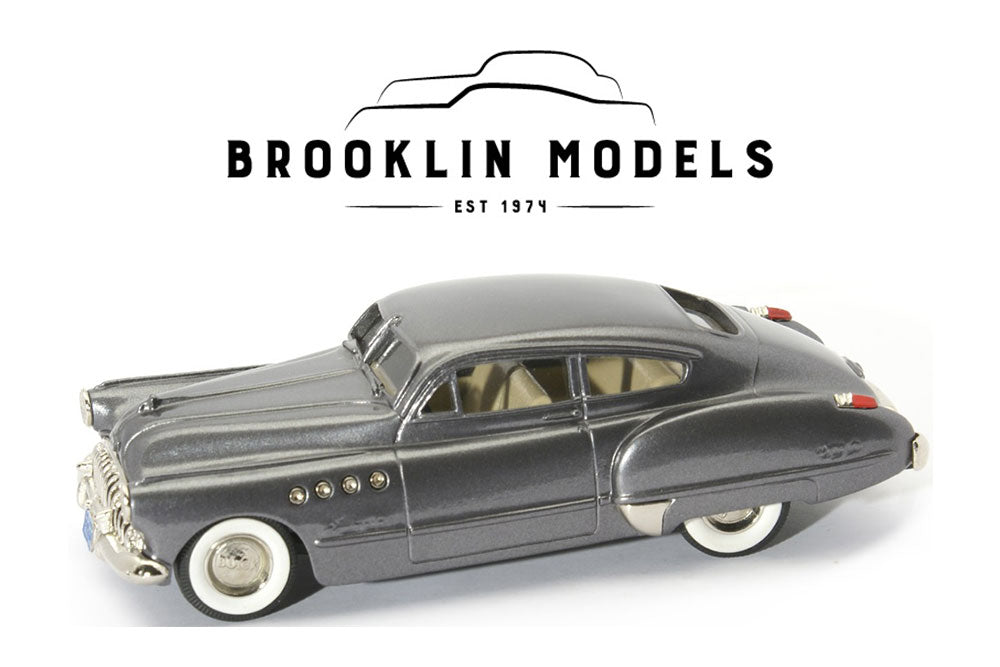 Numerous variations of the 1949 Buick Roadmaster exist, due to a wide variety of shades for body color. Although generally thought of as being dark metallic grey, shades of dark silver, green, grey, violet have widely been seen. To increase the variation quantity even more, there are two castings of the Buick Roadmaster, early models with a small hood ornament and later versions without. It might be correct to say that the Buick Roadmaster variation is actually the standard! The model was deleted in November 1993. One special in maroon was made for the 1989 Illinois Toy Show and three specials in different shades of maroon were made for Miniature Cars USA in 1989, 1990, 1991.
Hood Ornament
No Hood Ornament
FIRE AND POLICE CAR CONVERSION
Looking at my Brooklin collection I realized that I had too many color variations of the 1949 Buick Roadmaster, therefore I decided to use 2 of them to make something new. The idea was to convert them in a fire car and a police car, even if they were probably never make in the real world, but there is no rule which says that you have to reproduce something real! I added some figurines to make a nice presentation.
BUICK ROADMASTER CONVERTIBLE
The model had its beginnings in 1995, when the B.C.D., continuing its Hollywood movie theme for its club specials, proposed a rework of BRK10 into a convertible. As featured in the movie, the 1995 B.C.D. Rainman Buick was to be done in light yellow cream, with raspberry red interior and beige tonneau cover, with Omen figures of the stars of the movie, Tom Cruise and Dustin Hoffman. The production of this special was to require significant modification of the old standard BRK10 from a fastback version to a top-down convertible. As the Brooklin factory worked on the model Dietrich Lohmann, president of the B.C.D., informed John Hall that beginning in January 1996 the German club would broaden its focus to encompass all white metal models and would publish two information magazines, one in German and a second in English, entitled Precision Model Automobile. The Rainman Buick was to be a transition piece with the designation "B.C.D. / P.M.A." on the baseplate and future models to fall under the P.M.A. designation. John Hall felt that this change conflicted with the original idea of the German Brooklin Club and lack of coming to mutually agreeable terms led to the shelving of the Rainman Buick and to the ultimate demise of the B.C.D. as well. The model lay in limbo until 1997 when arrangements were made for the model to be released under sponsorship by the B.C.C.. Only 250 pieces were produced, each model accompanied by two beautiful Omen figures of Charlie Babbitt (Tom Cruise) and Raymond (Dustin Hoffman). "B.C.C. 1997 - 1 of 250" is cast in base and a certificate comes with the model.
Author: Gianluigi Cappi
Collection 2019
Sale 70% Off
Title for image