BROOKLIN AND THE 1940 CHRYSLER NEWPORT (BRK8)
Posted by BROOKLIN MODELS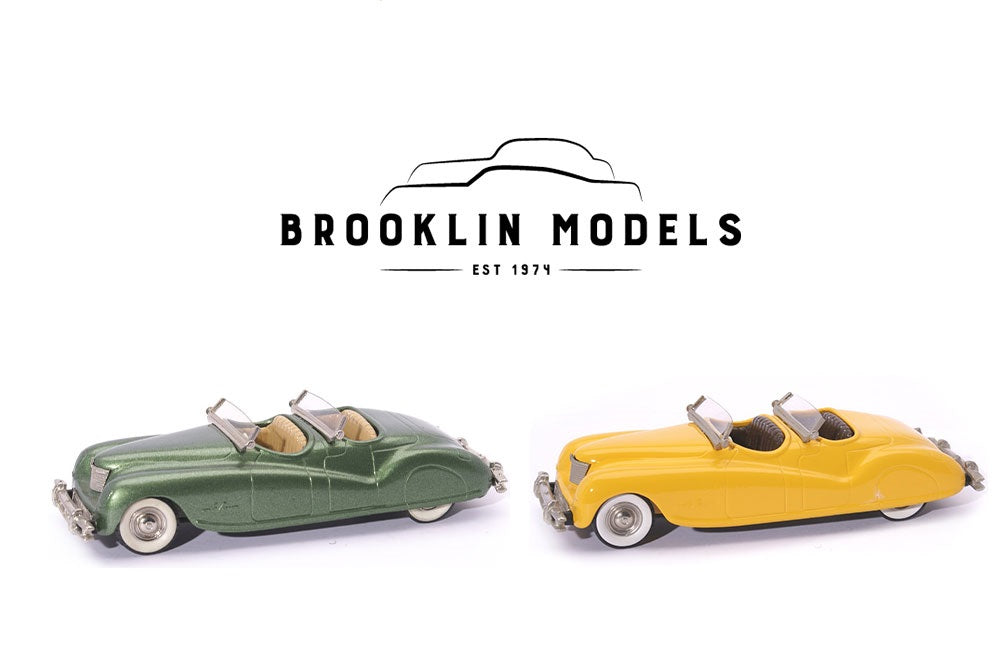 The 1940 Chrysler Newport was originally produced in dark and medium shades of metallic green in Canada. An off-white Canadian version was made for the National Model Car Convention. After Brooklin moved to England, a signal amber version was made. Two casting types, C2 and E2, do not have the raised Le Baron badge on the front fenders. The license plate is only on rear. The model was deleted in 1982 and the last 250 had a signed certificate confirming this fact.
NATIONAL MODEL CAR CONVENTION
This 1940 Chrysler Newport utilized the Canadian casting and was sponsored by Peter Foss for the National Model Car Convention in Dearborn, Michigan in July 1979. Finished in off-white, it features the word "Chrysler" in large red letters on the sides. Red lettering at the top margin of the rear doors reads "National Model Car Convention, Dearborn, Michigan July 1979". License plate is blue and the baseplate reads "Made in Canada". This model was the second Brooklin special produced, preceded only by the BRK9 Ford Van made for the Toledo Toy Show in March that same year.
INDIANAPOLIS PACE CAR
The 1941 Chrysler Newport Pace Car followed the BRK8 as an Indianapolis Pace Car in 1982 and it is identified as BRK8A, although the base says "No 8". This version does not have the raised Le Baron badge on the front fenders. It comes in white and off white with red interior, blue license plate only on rear and whitewall tyres. A big red decal "Chrysler" is present on the sides and "Official 1941 Pacemaker Indianapolis 500 Miles Sweepstakes" is written in small letters near the back seats. The model was deleted in April 1994.
MINIATURE CARS USA
Two 1941 Chrysler Newports were produced for the 60th Anniversary of Motor Sport magazine, finished in white with black interior and featuring the Motor Sport logo on the sides in black and green. Tyres are whitewall and only rear license plate is green. The words "60th Anniversary" are found on the rear fenders of the first 60 models, with an additional 140 models released without that particular decal. The models were sponsored by Miniature Cars of New Jersey.
Author: Gianluigi Cappi
You can find many other Brooklin stories on the fourth edition of the Brooklin Models Collectors Guide. Click here
Collection 2019
Sale 70% Off
Title for image