BROOKLIN AND THE 1937 CHEVROLET COUPE (BRK4)
Posted by BROOKLIN MODELS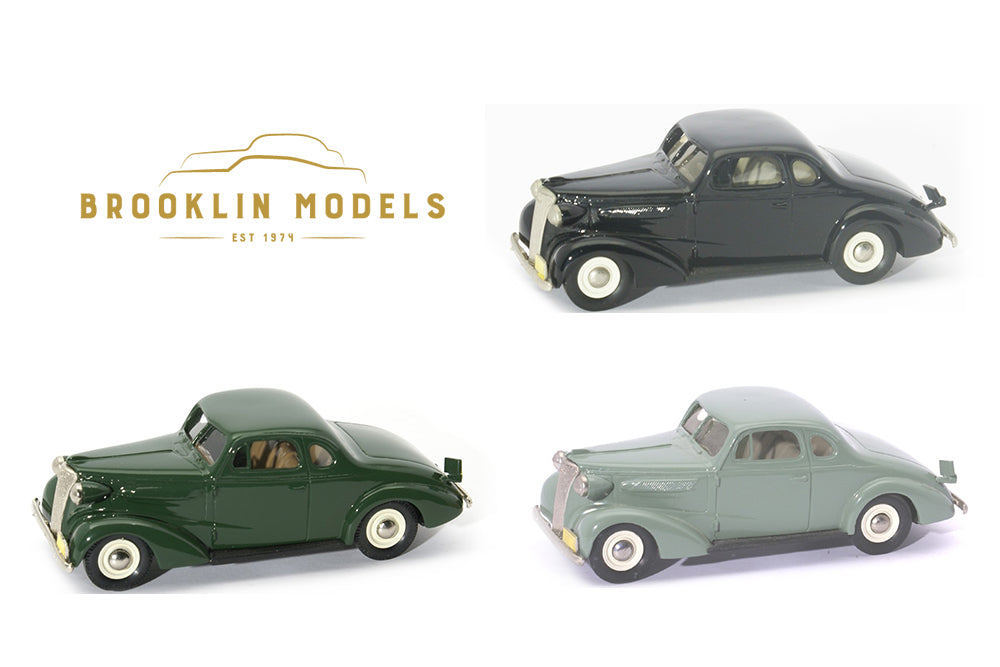 The 1937 Chevrolet Coupe was initially produced in Canada in several color shades of green with wheels in green, cream and white. A rare black version was produced in only 20 pieces. The Canadian cast has plain base, except for code 006 which has a detailed base. The English cast has a detailed base. The early English version has Robertson fixing screws on base. The model was deleted in July 1985 and the last 250 had a signed certificate confirming this fact. A few specials were produced in subsequent years.
WEBER'S
The presentation of this particular model, with its lack of extensive chrome and its blackwall tyres, is quite authentic and, except for the quantity designation on the trunk, a full-size version could easily have been seen in 1930 as a company car. This 1937 Chevrolet Coupe is fairly basic, finished in light beige with tan interior. The decal on the doors says that 70 models were produced for the 70th Anniversary.
JAMES LEAKE
A 1937 Chevrolet Coupe was chosen for the James Leake 15th Annual Automobile Auction held in 1987. Finished in gloss red, with beige interior and wheels and yellow license plates, the model features the auction logo in yellow on the doors. Just 150 pieces were produced.
TOLEDO TOY FAIR
This 1937 Chevrolet Coupe in apple green with light beige interior was done for the 1987 Toledo Toy Fair held in Maumee, Ohio. The words "1987 Toledo Collectors Toy Fair - Worth a trip from anywhere - Worldwide" are present on the trunk lid in yellow and the Old Toyland fire engine logo in yellow is found on the doors. 100 of these models were made.
ILLINOIS TOY SHOW
George Pekarik commissioned the show's first Brooklin special in February 1987 for the 9th Illinois Toy Show, a 1937 Chevrolet Coupe in medium blue, with very light beige interior, beige wheels and yellow license plates. Limited to 100 pieces, the Chevy sports no decals, but the base plate is engraved with a number between 1 and 100, with matching Toy Show certificates, hand signed by George Pekarik.
Author: Gianluigi Cappi
You can find many other Brooklin stories on the fourth edition of the Brooklin Models Collectors Guide. Click here
Collection 2019
Sale 70% Off
Title for image